In tonight's episode of, 'we just keep making shyte up', the usual psychofucks are busy pulling rabbits out of their arses, to see which one you might want to take home with you.
Concerns about omicron variant should spur unvaccinated Americas to get their shots, experts say – via wxii.com
That's right boys and girls – you, the sinful and unclean – the unvaccinated, should now get your jabs because after all, their original potion of shit was created to provide protection against the mighty cornholio, but doesn't. So they changed it that to it will help you from being hospitalized, but it doesn't.
Reference: Whistleblower: FDA and CDC Ignore Damning Report that over 90% of a Hospital's Admissions were Vaccinated for Covid-19 and No One Was Reporting This to VAERS
and…
German Statisticians Find the Same Result in Germany as the UK Health Security Agency Reports: It Is a Pandemic of the Vaccinated – via paulcraigroberts.org
Whoops!
But now….hey, time to scare the bejesus out of you again, right in time for the holidays and pump up the fear over the new variant so that you'll take their original chemical goo that hasn't quite worked out as advertised….but it will this time.
As the new COVID-19 omicron variant spurs global travel bans, experts say concerns over its impact should prompt millions of unvaccinated Americans to get their shots — and for those who are eligible, to get their boosters.

"I would hope that within the next week or two weeks, so many of those people will take advantage of the vaccine," Dr. William Schaffner, a professor at Vanderbilt University Medical Center, told CNN on Friday. "That will help us in the immediate term. And I would anticipate that, as bad as Omicron might be, our vaccine still will be partially effective."

Dr. Anthony Fauci echoed that, pointing to vaccinations and boosters as effective mitigation tools.
'experts say concerns over its impact'…what impact? Oh, that's right, the impact felt by the unwashed from government cinderblock heads shutting down whatever they can again.  
'as bad as omicron might be'…that's right, you have no fucking idea but hey, the poke of our battery acid will still be partially effective on a 'variant' that wasn't around a year ago.  Just trust us this time.
Covid-19 variant omicron is unlikely to cause severe Illness in vaccinated people, BioNTech founder says – via foxbusiness.com

The omicron variant of the coronavirus could lead to more infections among vaccinated people but they will most likely remain protected from a severe course of illness, according to the inventor of one of the first COVID-19 vaccines. 

While the new variant might evade the antibodies generated in reaction to the vaccine, the virus will likely remain vulnerable to immune cells that destroy it once it enters the body, BioNTech SE co-founder Ugur Sahin said. 

"Our message is: Don't freak out, the plan remains the same: Speed up the administration of a third booster shot," Dr. Sahin said in an interview Tuesday. 
Oh, okay…the first two pokes were garbage, the booster of the same garbage is much better.
Yep…why freak out. After all the concoction of poison is working out so well, for the pocketbooks of these shysters but for everyday folks, not so well.
Just in time for the end-of-year holidays, Centers for Disease Control and Prevention (CDC) officials and their bought media agents trotted out a new round of Gothic horror stories about a purported COVID "variant."

Their apparent hope is that the synchronized hullabaloo about "variants" will distract the public from the true nightmare that is unfolding: a record-setting uptick in all-cause mortality that jives suspiciously not only with the timing of the COVID vaccination rollout but with the top adverse events — heart failure, heart disease, circulatory conditions and strokes — associated with the experimental COVID shots.

Media reports acknowledge the rising tide of "extra non-COVID deaths" and "seriously ill people" swarming emergency departments, even stating that patients are "showing up much sicker than [Er staff have] ever seen" and are younger than expected.

However, while admitting patients' unusual symptoms — abdominal pain, blood clots, heart conditions and tingling of extremities — are not COVID-related, health officials assert "no one knows why" they are occurring.

For others, the explanation is obvious. "These are precisely the ailments one would expect to see," said Mike Whitney of The Unz Review, "if one had just injected millions of people with a clot-generating biologic that triggers a violent immune response that attacks the inner lining of the blood vessels inflicting severe damage to the body's critical infrastructure." via childrenshealthdefense.org – (read more)
The Babylon Bee sums it all up: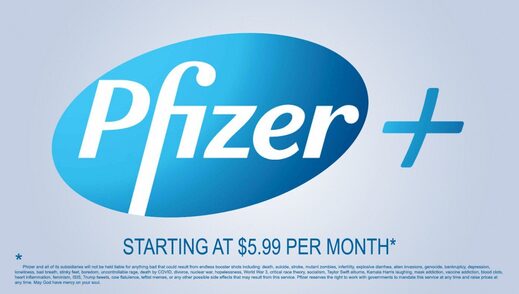 Following the popular trend of providing consumers constant access to products or services they think they need, Pfizer has announced a subscription service that will provide monthly COVID-19 vaccines to all members, called Pfizer+.
Pfizer+ offers the following additional benefits:
Monthly vaccine booster
Access to some of Pfizer's other popular drugs
Gold badge for social media virtue signals
Video library of the mainstream media shaming unvaccinated individuals
Pfizer+ will also launch with a Super Premium Plus tier for the consumer who just can't get enough of giant pharmaceutical companies with shady pasts. Benefits include:
An autographed photo of Dr. Fauci
A mobile app that alerts you when an unvaccinated person is nearby
Monthly shipment of masks
Monthly fees for the service will be $5.99 per month, and Pfizer has partnered with the IRS to extract the monthly fee from all taxpayers for the foreseeable future.
On launch day, the pharmaceutical giant announced Pfizer+ subscriptions had generated enough profits to pay for the billions of dollars in criminal and civil lawsuits stemming from decades of false advertising, data manipulation, bribing foreign government officials, and lying to doctors.
***
Tonight's musical offering, as we continue to skate along into the abyss:
"A Charlie Brown Christmas" – Skating