Otherworldly anonymous sources have confirmed that although there are probably at least a few trillion or more reasons to cast this spinning circus of a planet into oblivion, along with all its' gnarly inhabitants, the gods are too busy right now trying to determine what circle of Hell most of the unwashed will be spending their eternity rather than attending to  the demolition of Earth, and doubly busy beefing up the elements of torture in the lower circles of Gehenna for every psychofuck currently attempting to make life on Earth a living hell for as many as possible.
The CDC has announced today [Friday, February 10th] that they have added the COVID-19 "vaccines" to their childhood immunization schedule.

The COVID-19 "vaccines" now add another 2-3 doses of vaccines to the 25 doses of other vaccines already on the CDC schedule that can be injected into babies and toddlers during their first 15 months of life. – via healthimpactnews.com
Otherworldly anonymous sources have also confirmed that with this news of the latest shitfuckery heaped upon innocent children, that demolition of the vaudeville turned shit show is now imminent.
Through the CDC, the Harmaceutical industry has the little ones covered, for after all, as we all know, health comes from a needle filled with chemical goo to pretty much ensure that for the rest of their lives, they'll be on some form of Harmaceutical poisonous shyte to counteract all the effects of their initial requirements of injected sludge.
Check out these delicious requirements of injected shit from birth to 15 months: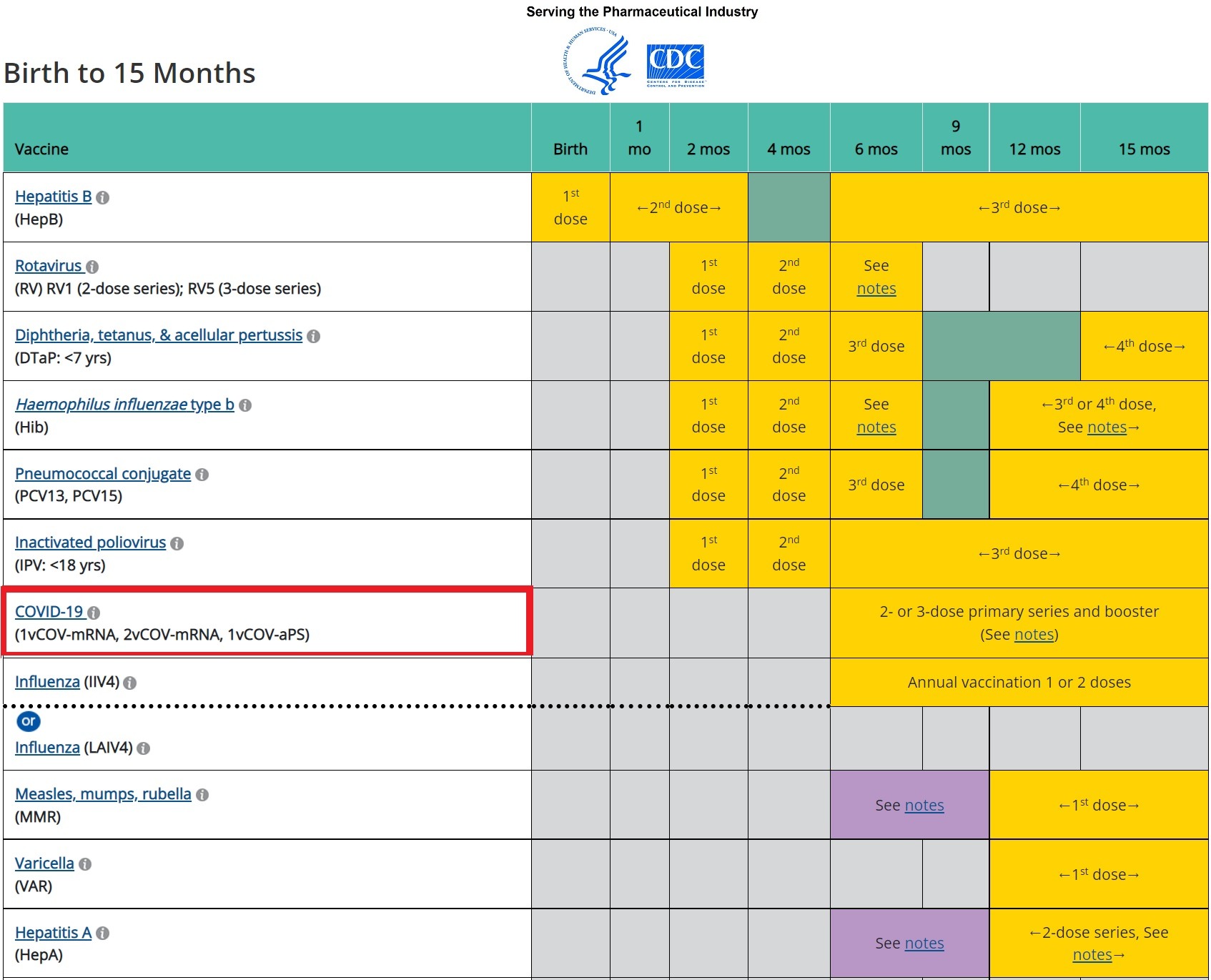 Original image source from the CDC.
And there's some clever illustrations for doctors to administer the Harmaceutical concoctions.
Doesn't the following just scream health?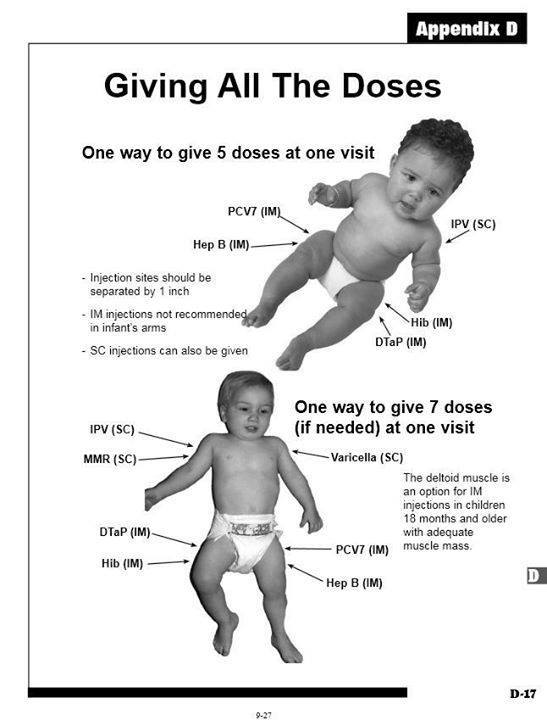 Page from a pediatrician manual showing how to give multiple vaccines to babies in one office visit. – healthimpactnews.com
The COVID shots were also added into the CDC schedule of immunizations for children 18-months-old to 18-years-old.

This seems to be the first time in the history of the CDC that vaccines that are not even FDA-approved but only have EUAs (emergency use authorizations) have been added to the CDC childhood immunization schedule.
The most recent VAERS data on vaccine injuries, updated Feb. 2 for children 6 months to 5 years old who received a COVID-19 vaccine, showed reports of 5,737 adverse events, including 244 cases rated as serious and 14 reported deaths.

For 5- to 11-year-olds, there were 16,910 reports of adverse events, including 805 rated as serious and 33 reported deaths.

VAERS is the primary government-funded system for reporting adverse vaccine reactions in the U.S. While reports submitted to VAERS require further investigation before a causal relationship can be confirmed, VAERS historically has been shown to report only 1% of actual vaccine adverse events.

According to Retsef Levi, Ph.D., with the Massachusetts Institute of Technology, the vaccines "cause unprecedented levels of harm, including the death of young people and children."

Multiple studies have determined that the vaccines increase the risk of myocarditis and pericarditis, particularly in young men.

An October 2022 study revealed the CDC was aware of the safety signal for these side effects months before it informed the public.

At the recent FDA vaccine advisory committee meeting, several committee members also raised concerns about recommending annual bivalent boosters for children given the lack of data.

Dr. Archana Chatterjee, Ph.D., committee member and dean of the Chicago Medical School and vice president for medical affairs at Rosalind Franklin University said:

"As we look at this question [simplifying the vaccination schedule] for young children, the data is just too few for us to really make scientifically sound decisions regarding this question. The trial data need to be much more robust than we have seen in the past."

In light of data like this, vaccination for COVID-19 for children and healthy people is losing public and even governmental support in some places.

Under public pressure and facing a series of lawsuits, last week California dropped its plan to mandate COVID-19 vaccination for school children.

As of Feb. 6, 21 states have legislation or executive orders banning student vaccine mandates, according to the National Academy for State Health Policy, a nonpartisan organization of state health policymakers.

Only the District of Columbia currently has a vaccine mandate for school children, although it is not set to go into effect until the 2023-2024 school year.

As of Feb. 12, the U.K. will no longer recommend COVID-19 boosters for healthy people under age 50.

Denmark ended its universal COVID-19 vaccination campaign for healthy individuals in February 2022.
***
Tonight's musical offering:
Aaron Copland: 4 Dance Episodes from "Rodeo" – III. Saturday Night Waltz