There are shitholes, and then there are real shitholes.
This shitposting writer lives in the former, as NYC appears to be taking their ultimate tank seriously and is on its' way to securing premiere shithole status, (and on the street documentation of NYC here) thanks to the government cement heads in charge.
The cornholio has magical knowledge, knowing it can only infest itself upon the unwashed under certain circumstances and situations that local government farts sitting in their government offices, seeped in their own stench, concoct, daily, weekly and monthly, with their ever changing movement of the goalposts.
But now, the god-like cornholio has acquired a new skill, that of discerning what time of day or night it can infest itself into the innocents.
Polis Moves Last Call for Alcohol to 11 p.m., Midnight Coming Soon? – by Michael Roberts via westword.com

During an August 21 press conference providing an update on the fight against COVID-19, Governor (Colorado) Jared Polis confirmed that his temporary order setting last call for alcohol service at 10 p.m., which just expired, will be replaced by one moving the cutoff an hour later. Starting on Saturday, August 22, last call will be at 11 p.m., and he expressed optimism that further extensions may be in the offing.

"I'm hopeful that if the data continues to improve, within a month we can go to midnight," Polis said. Under normal circumstances, Colorado's last call is 2 a.m.
Oh, what the mighty cornholio must contend with.  Before 10 p.m., now 11 p.m., the lolcows could congregate at their local favorite bar or pub, and the cornholio could not abide therein.  Now, after this jackal evidently conferred either with the cornholio directly, or with his staff of sub-mediocrities, another hour of partaking of libations has been granted by the State's daddy, announcing inside information of the inner workings of the mysterious and magical cornholio.
At least half of the State of Colorado is at elevation.  This might explain, with less oxygen available at altitude, combined with the masks of oxygen depravation, critical thinking here is as rare as the rarified air. For not only do the government shysters suck whenever and however they can, lack of critical or any type of thinking is the standard in the Centennial State, and isn't confined to the dingy halls of government stupidity.
The Denver Broncos as misting their players to protect against COVID-19. Does it actually work? – by Lorenzo Reyes  – USA Today

The Denver Broncos social media team posted a video Monday that showed its players, masked up and in jerseys and shorts on their way to practice, filing through a walk-through sanitizing booth that misted them.

"Time for work," the tweet read. "But first; we sanitize."

As of Thursday afternoon, the video has more than five million views. The post drew instant reaction, with many dubious over its viability to be an effective tool to prevent the transmission of SARS-CoV-2, the virus that causes COVID-19. But does it actually work? Medical experts cast significant doubts.

"While walk-through sanitizing booths may give players some peace of mind, the effectiveness of this and other mass disinfection methods against the COVID-19 virus is not yet supported by scientific data," Dr. Choukri Ben Mamoun, professor of medicine (infectious disease) and microbial pathogenesis at Yale School of Medicine wrote to USA TODAY Sports in an email. "It is clear that if a player is infectious while entering the booth, there is a very good chance that he will still be infectious coming out of the booth and will transmit the virus to other players."
And more high altitude shitf**kery comes via the unelected cement heads in the educational government shithalls that comes up with 'mandating' the following horseshit for the truly innocent in Provo, UT, elevation 4,551 feet. – via blacklistednews.com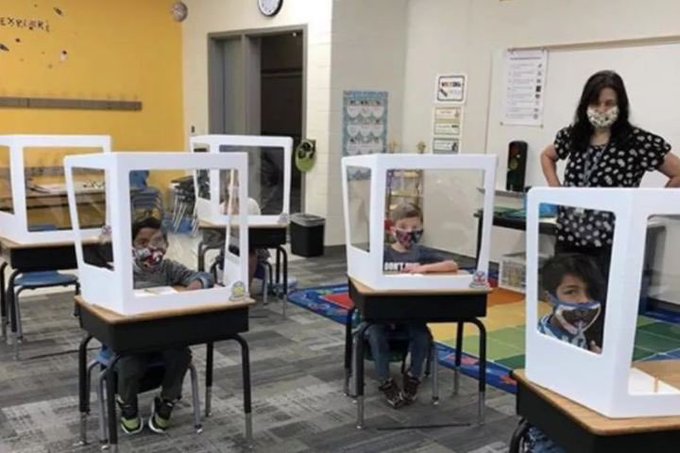 And Jesus continues to weep.
"We do not have to visit a madhouse to find disordered minds; our planet is the mental institution of the universe." ― Johann Wolfgang von Goethe
***
Tonight's musical offering:
Grateful Dead -"Not fade Away, Goin' Down the road feeling bad" Grateful Dead 'Skull & Roses'